Not much information is available about this game. Please stay tuned for more information! We will update this as soon as we hear more information.
---
Feel free to search for this game via ESRB, PEGI, USK, CERO and ACB.
For physical products check the packaging for an age rating symbol.
---
Developed by Bethesda Game Studios.
Published by Bethesda Softworks.
---
We're here to help you make the right choices when buying video games online. For more help you can read our Frequently Asked Questions or contact us.
How do I buy/download The Elder Scrolls VI?
Visit the "Buy (Compare Prices)" tab above (or click here) to see a list of offers from all retailers then use the filters to narrow down your search and select your desired editions & platforms (for help activating the game read this thread). When you find the right offer simply click it and you will be redirected to the retailers' website where you can purchase the game and get your product key.

NEXARDA™ will help you find the best deal for The Elder Scrolls VI at the lowest possible price from 80+ trusted retailers. You can choose to buy from Official Stores, Key Sellers or Marketplaces (for a list of all retailers visit this page).
Can I save The Elder Scrolls VI for later (to buy when the price is lower)?
Yes! You can do this with a NEXARDA™ account - all you need to do is create an account with us and once you're logged in you can add The Elder Scrolls VI to your Wish List and buy it at a later date when the price is better for you. You can see your entire Wish List right here.
What is the age rating for The Elder Scrolls VI (for parents)?
---
Spread the word about The Elder Scrolls VI with friends, family & others.
Thank you for being a loyal customer! Buying from Official Stores directly supports the game developers & publishers. We recommend buying from Official Stores!
The Elder Scrolls VI is in your Game Library.

To play this game simply launch it via the Game Library page.
LAUNCH GAME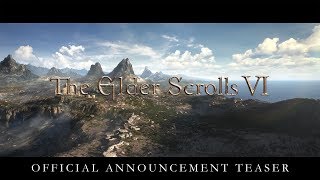 ---
VIEW ALL 8 GAMES IN THIS FRANCHISE (SERIES)
Part of the The Elder Scrolls franchise (series).
---
Here are some useful links & game resources.
---
Brief summary table with important information about this game.
---
ADVERTISEMENT