What It's All About
About FIFA 22
Powered by Football™, EA SPORTS™ FIFA 22 brings the game even closer to the real thing with fundamental gameplay advances and a new season of innovation across every mode.

ADVANCED 11V11 MATCH CAPTURE
Xsens suits enable motion capture from 22 professional footballers playing at high-intensity for the first time. The resulting unprecedented volume of high-quality real-human movement data powers how both individuals and teams move across FIFA 22.

MACHINE LEARNING
A cutting-edge proprietary machine learning algorithm learns from over 8.7 million frames of advanced match capture, then writes new animations in real time to create organic football realism across a variety of interactions on the pitch.

FULL TEAM AUTHENTIC MOTION
Xsens suits record every touch, tackle, sprint and duel from all 22 players playing at high intensity for the first time ever, capturing data that powers over 4000 new animations in FIFA 22 to raise the footballing intensity, responsiveness, and physicality of every player in the game.

TACTICAL A.I.
Deeper player intelligence driven by the power of next-gen consoles gives each individual the ability to better understand both attacking and defensive formations and movement, creating a new level of tactical realism.
---
Feel free to search for this game via ESRB, PEGI, USK, CERO and ACB.
For physical products check the packaging for an age rating symbol.
---
These are a list of genres and tags that we applied to this game.
Football
Sports
Competitive
Simulation
Massively Multiplayer
Action
Family Friendly
These are a list of features the game has (e.g. multiplayer, controller support & cloud saves).
Singleplayer
Multiplayer (Online)
Controller Support
Leaderboards
Microtransactions
Developed by Electronic Arts.
Published by EA Sports.
---
Spread the word about FIFA 22 with friends, family & others.
Compare Prices & Save Money
Pre-Order FIFA 22
Thank you for being a loyal customer! Buying from Official Stores directly supports the game developers & publishers. We recommend buying from Official Stores!
FIFA 22 is in your Game Library.

To play this game simply launch it via the Game Library page.

LAUNCH GAME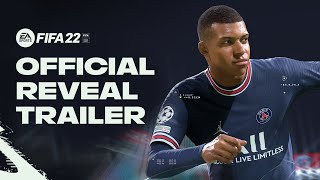 FIFA 22 is part of the
FIFA Franchise
Here are some useful links & game resources.
For instructions on how to activate this game read this forum thread.
Brief summary table with important information about this game.