What It's All About
About Battleborn
A tremendous band of badass heroes fight to protect the universe's very last star from a mysterious evil in this Hero Shooter by the creators of Borderlands. Battleborn's team-based competitive multiplayer action can be experienced by up to 10 players online in 5v5 matches, and includes three distinct multiplayer modes.
---
Here are the system requirements for Battleborn (thanks to PCGameBenchmark.com).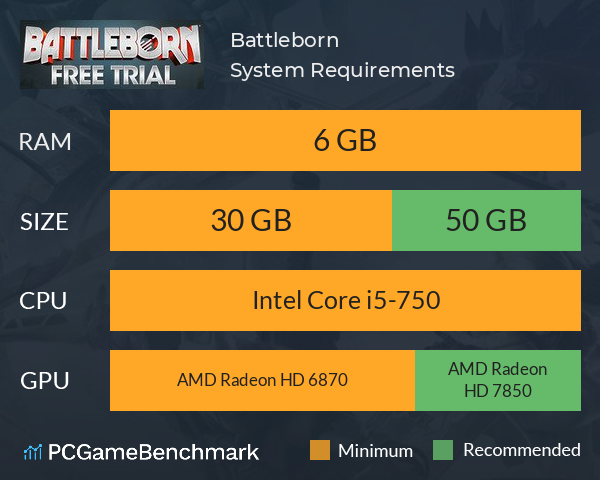 ---
Feel free to search for this game via ESRB, PEGI, USK, CERO and ACB.
For physical products check the packaging for an age rating symbol.
---
These are a list of genres and tags that we applied to this game.
Superhero
Shooter
MOBA
Action
Funny
Role Playing
Competitive
Sci-Fi
Massively Multiplayer
These are a list of features the game has (e.g. multiplayer, controller support & cloud saves).
First Person
Singleplayer
Multiplayer (Online)
Co-Op/Splitscreen
Achievements
Cloud Saves
Controller Support
Developed by Gearbox Software.
Published by 2K Games.
---
Spread the word about Battleborn with friends, family & others.
Compare Prices & Save Money
Buy Battleborn
Thank you for being a loyal customer! Buying from Official Stores directly supports the game developers & publishers. We recommend buying from Official Stores!
Battleborn is in your Game Library.

To play this game simply launch it via the Game Library page.

LAUNCH GAME
Here are some useful links & game resources.
For instructions on how to activate this game read this forum thread.
Brief summary table with important information about this game.