What It's All About
About We Were Here Together
Embark on a puzzle solving adventure in which you and a partner must prove you can communicate and work together to escape the haunted Castle Rock. It all begins with an emergency flare lighting up the sky and a distress call waking you from uneasy dreams. Your fellow Antarctic explorers are in trouble, and the two of you left at base camp must work together to launch a rescue mission. If only you knew what you were getting into…
ABOUT:
From the research base camp you'll need to figure out a way to get to the source of the distress flare. Once you're through the frozen Antarctic wastes, you'll find yourselves separated inside a medieval castle, facing puzzles, secrets, and dangers! You and your partner start out with nothing but your wits and a walkie-talkie each. Observation, smart communication and teamwork will be the only way to escape from the sinister Castle Rock.
---
Here are the system requirements for We Were Here Together (thanks to PCGameBenchmark.com).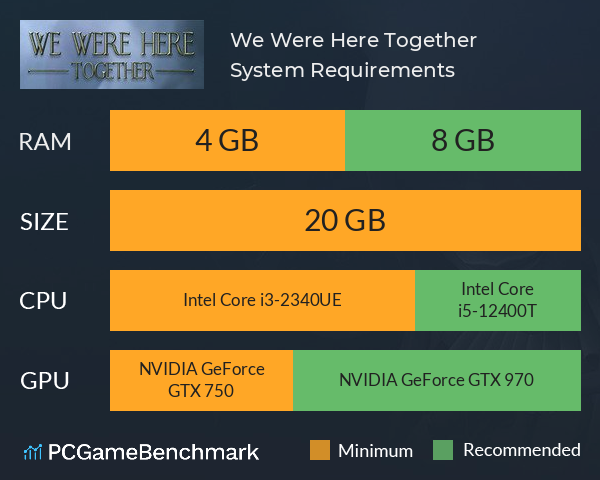 ---
We use ESRB for ratings as it's easier for us, we may add others like PEGI in the future.
---
These are a list of genres and tags that we applied to this game.
Action
Adventure
Casual
Crime
Difficult
Horror
Indie
Puzzle
Story Rich
Survival
These are a list of features the game has (e.g. multiplayer, controller support & cloud saves).
Achievements
Cloud Saves
Co-Op/Splitscreen
Controller Support
First Person
Multiplayer
Singleplayer
Developed by Total Mayhem Games.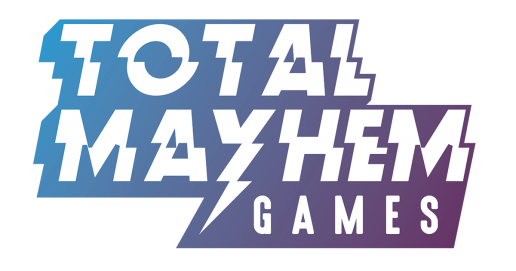 Published by Total Mayhem Games.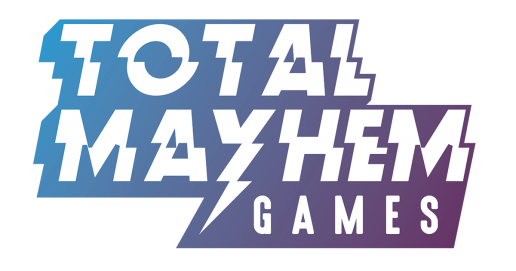 See What Others Say About This Game
We Were Here Together Reviews
Write A Review For We Were Here Together
User Reviews (0)
Average rating is 0/10 (0% recommend).
These reviews are written by NEXARDA users.

Critic Reviews (0)
We don't have any ratings from OpenCritic yet.
These reviews are provided by OpenCritic.
Compare Prices & Save Money
Buy We Were Here Together
Support the game developers & publishers by purchasing from Official Stores! You might have to pay a bit more but you'll help the game creators a lot. Click here to show Official Store offers only.
Thank you for showing Official Store offers, by purchasing from an Official Store you will support the developers & publishers of this game so they can continue releasing awesome games & updates.
We Were Here Together
Embark on a puzzle solving adventure in which you and a partner must prove you can communicate and work together to escape the haunted Castle Rock. It all begins with an emergency flare lighting up the sky and a distress call waking you from uneasy dreams. Your fellow Antarctic explorers are in trouble, and the two of you left at base camp must work together to launch a rescue mission. If only you knew what you were getting into…
"Support Studio" mode has been enabled!
The developer(s)/publisher(s) would like you to purchase this game from an Official Store. Buying from an Official Store directly supports the creators of this game. This is of course optional and you can see all offers if you click here.
{"id":"20425","type":0,"store":"Steam","store_type":"Official Store","store_is_official":true,"store_css":"steam","store_image":"steam","edition_name":"Standard Edition","edition_html":"Standard&#x20;Edition&#x20;<i class=\"for-icon fab fa-windows\" title=\"Available for Windows\"><\/i>&#x20;<i class=\"for-icon fab fa-apple\" title=\"Available for Mac OS\"><\/i>","platform":"Steam","region":"Global","price":"12.99","price_without_coupon":"12.99","discount":0,"discount_without_coupon":0,"in_basket":false,"coupon_info":[false,"",0,""],"bg":"https:\/\/imgcdn1.nexarda.com\/uploads\/-\/2020\/1601041852-e480814062dec59949ee02e74751d0bf71094eb97577c20158ddf4c7af11c013.jpg"}
{"id":"20426","type":0,"store":"Eneba","store_type":"Marketplace","store_is_official":false,"store_css":"eneba","store_image":"eneba","edition_name":"Standard Edition","edition_html":"Standard&#x20;Edition&#x20;<i class=\"for-icon fab fa-windows\" title=\"Available for Windows\"><\/i>&#x20;<i class=\"for-icon fab fa-apple\" title=\"Available for Mac OS\"><\/i>","platform":"Steam","region":"Global","price":"6.74","price_without_coupon":"6.95","discount":3,"discount_without_coupon":0,"in_basket":false,"coupon_info":[true,"NEXARDA",3,"Should work on everything."],"bg":"https:\/\/imgcdn1.nexarda.com\/uploads\/-\/2020\/1601041852-e480814062dec59949ee02e74751d0bf71094eb97577c20158ddf4c7af11c013.jpg"}
{"id":"20427","type":0,"store":"G2A","store_type":"Marketplace","store_is_official":false,"store_css":"gtwoa","store_image":"g2a","edition_name":"Standard Edition","edition_html":"Standard&#x20;Edition&#x20;<i class=\"for-icon fab fa-windows\" title=\"Available for Windows\"><\/i>&#x20;<i class=\"for-icon fab fa-apple\" title=\"Available for Mac OS\"><\/i>","platform":"Steam","region":"Global","price":"5.23","price_without_coupon":"5.23","discount":0,"discount_without_coupon":0,"in_basket":false,"coupon_info":[false,"",0,""],"bg":"https:\/\/imgcdn1.nexarda.com\/uploads\/-\/2020\/1601041852-e480814062dec59949ee02e74751d0bf71094eb97577c20158ddf4c7af11c013.jpg"}
{"id":"20428","type":0,"store":"Gamivo","store_type":"Marketplace","store_is_official":false,"store_css":"gamivo","store_image":"gamivo","edition_name":"Standard Edition","edition_html":"Standard&#x20;Edition&#x20;<i class=\"for-icon fab fa-windows\" title=\"Available for Windows\"><\/i>&#x20;<i class=\"for-icon fab fa-apple\" title=\"Available for Mac OS\"><\/i>","platform":"Steam","region":"Global","price":"5.08","price_without_coupon":"5.52","discount":8,"discount_without_coupon":0,"in_basket":false,"coupon_info":[true,"ROBO4",8,"Should work on all products, gives 8% off total basket price at checkout."],"bg":"https:\/\/imgcdn1.nexarda.com\/uploads\/-\/2020\/1601041852-e480814062dec59949ee02e74751d0bf71094eb97577c20158ddf4c7af11c013.jpg"}
{"id":"20429","type":0,"store":"HRK Game","store_type":"Key Seller","store_is_official":false,"store_css":"hrk-game","store_image":"hrk","edition_name":"Standard Edition","edition_html":"Standard&#x20;Edition&#x20;<i class=\"for-icon fab fa-windows\" title=\"Available for Windows\"><\/i>&#x20;<i class=\"for-icon fab fa-apple\" title=\"Available for Mac OS\"><\/i>","platform":"Steam","region":"Global","price":"5.66","price_without_coupon":"5.66","discount":56,"discount_without_coupon":56,"in_basket":false,"coupon_info":[false,"",0,""],"bg":"https:\/\/imgcdn1.nexarda.com\/uploads\/-\/2020\/1601041852-e480814062dec59949ee02e74751d0bf71094eb97577c20158ddf4c7af11c013.jpg"}
{"id":"20430","type":0,"store":"Humble Store","store_type":"Official Store","store_is_official":true,"store_css":"humble-store","store_image":"humble-store","edition_name":"Standard Edition","edition_html":"Standard&#x20;Edition&#x20;<i class=\"for-icon fab fa-windows\" title=\"Available for Windows\"><\/i>&#x20;<i class=\"for-icon fab fa-apple\" title=\"Available for Mac OS\"><\/i>","platform":"Steam","region":"Global","price":"12.99","price_without_coupon":"12.99","discount":0,"discount_without_coupon":0,"in_basket":false,"coupon_info":[false,"",0,""],"bg":"https:\/\/imgcdn1.nexarda.com\/uploads\/-\/2020\/1601041852-e480814062dec59949ee02e74751d0bf71094eb97577c20158ddf4c7af11c013.jpg"}
{"id":"20431","type":0,"store":"Kinguin","store_type":"Marketplace","store_is_official":false,"store_css":"kinguin","store_image":"kinguin","edition_name":"Standard Edition","edition_html":"Standard&#x20;Edition&#x20;<i class=\"for-icon fab fa-windows\" title=\"Available for Windows\"><\/i>&#x20;<i class=\"for-icon fab fa-apple\" title=\"Available for Mac OS\"><\/i>","platform":"Steam","region":"Global","price":"6.76","price_without_coupon":"6.76","discount":0,"discount_without_coupon":0,"in_basket":false,"coupon_info":[false,"",0,""],"bg":"https:\/\/imgcdn1.nexarda.com\/uploads\/-\/2020\/1601041852-e480814062dec59949ee02e74751d0bf71094eb97577c20158ddf4c7af11c013.jpg"}
{"id":"20432","type":0,"store":"Microsoft Store","store_type":"Official Store","store_is_official":true,"store_css":"microsoft-store","store_image":"microsoft-store","edition_name":"Standard Edition","edition_html":"Standard&#x20;Edition&#x20;<i class=\"for-icon fab fa-xbox\" title=\"Available for Xbox One\"><\/i>","platform":"Xbox","region":"Global","price":"12.99","price_without_coupon":"12.99","discount":0,"discount_without_coupon":0,"in_basket":false,"coupon_info":[false,"",0,""],"bg":"https:\/\/imgcdn1.nexarda.com\/uploads\/-\/2020\/1601041852-e480814062dec59949ee02e74751d0bf71094eb97577c20158ddf4c7af11c013.jpg"}