About The Company
Larian Studios
In 1996, in a small office in Ghent, Belgium, Larian Studios was born. Since then, our passion to create a world class video games has driven the Divinity series - six games that straddle multiple genres and defy expectations. Our first crowdfunded success, Divinity: Original Sin, won over 150 awards and nominations, and the recently-released sequel Divinity: Original Sin 2 launched with a 93 Metacritic rating, as well as over 160 awards (Including the Bafta for Best Multiplayer Game) and counting! Thanks to the success of these two games, our family has grown to over 200 people around the world, working in our Ghent, St Petersburg, Quebec and Dublin studios.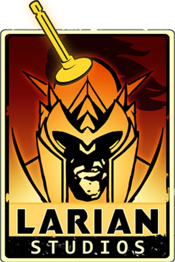 Larian Studios On Social Media
Follow Larian Studios
Twitter
@LarianStudios
Facebook
LarianStudios
Job Openings At Larian Studios
Work for Larian Studios
Check their jobs page to see if Larian Studios is hiring and apply for a position. It couldn't be easier! Please note we are not responsible for job listings. For information about a specific position please contact Larian Studios through their website.
Larian Studios Is Best Known For
Most Popular Games
Released Games By Larian Studios
Released Games
PRICES START AT:
$55.24+
Baldur's Gate III
Released 6th October 2020
PRICES START AT:
$39.63+
Divinity: Original Sin II
Released 14th September 2017
PRICES START AT:
$18.61+
Divinity: Original Sin
Released 30th June 2014
Upcoming Games By Larian Studios
Upcoming Games