What It's All About
About Lumo
Witness the rebirth of a genre in Lumo – a classic isometric adventure with a modern twist for gamers young and old alike! As a contemporary take on the long-lost isometric platform genre, Lumo can be enjoyed by anyone looking for an absorbing, challenging and rewarding adventure. But for those who lived through the golden age of videogames – the 80s and early 90s – or know about the games and culture from that time, layer upon layer of nods, winks and touches to those times help build upon an experience that's as heart-warming as it is exciting! With over 400 rooms across four unique zones, six hidden mini-games and all kinds of secrets to uncover, Lumo is a true voyage of discovery. How much you discover just depends on how hard you look…
---
Here are the system requirements for Lumo (thanks to PCGameBenchmark.com).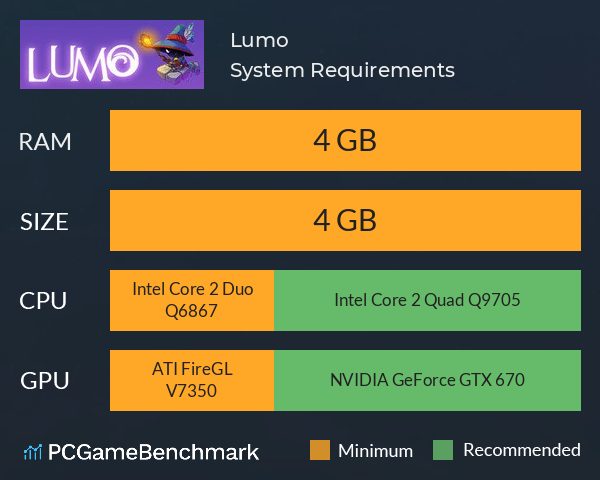 ---
We use ESRB for ratings as it's easier for us, we may add others like PEGI in the future.
---
These are a list of genres and tags that we applied to this game.
Action
Adventure
Indie
Platformer
Puzzle
Retro
These are a list of features the game has (e.g. multiplayer, controller support & cloud saves).
Achievements
Cloud Saves
Controller Support
Singleplayer
Third Person
Developed by Triple Eh? Ltd and Just Add Water. Published by Triple Eh? Ltd and Rising Star Games.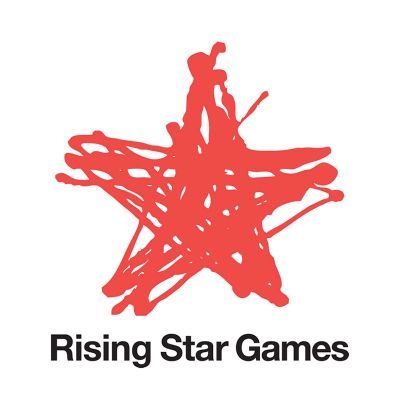 See What Others Say About This Game
Lumo Reviews
Write A Review For Lumo
User Reviews (0)
Average rating is 0/10 (0% recommend).
These reviews are written by NEXARDA users.

Critic Reviews (0)
We don't have any ratings from OpenCritic yet.
These reviews are provided by OpenCritic.
Compare Prices & Save Money
Buy Lumo
Support the game developers & publishers by purchasing from Official Stores! You might have to pay a bit more but you'll help the game creators a lot. Click here to show Official Store offers only.
Thank you for showing Official Store offers, by purchasing from an Official Store you will support the developers & publishers of this game so they can continue releasing awesome games & updates.
Lumo
Witness the rebirth of a genre in Lumo – a classic isometric adventure with a modern twist for gamers young and old alike! As a contemporary take on the long-lost isometric platform genre, Lumo can be enjoyed by anyone looking for an absorbing, challenging and rewarding adventure. But for those who lived through the golden age of videogames – the 80s and early 90s – or know about the games and culture from that time, layer upon layer of nods, winks and touches to those times help build upon an experience that's as heart-warming as it is exciting! With over 400 rooms across four unique zones, six hidden mini-games and all kinds of secrets to uncover, Lumo is a true voyage of discovery. How much you discover just depends on how hard you look…
"Support Studio" mode has been enabled!
The developer(s)/publisher(s) would like you to purchase this game from an Official Store. Buying from an Official Store directly supports the creators of this game. This is of course optional and you can see all offers if you click here.
{"id":"22659","type":0,"store":"Steam","store_type":"Official Store","store_is_official":true,"store_css":"steam","store_image":"steam","edition_name":"Standard Edition","edition_html":"Standard&#x20;Edition&#x20;<i class=\"for-icon fab fa-windows\" title=\"Available on Windows\"><\/i> <i class=\"for-icon fab fa-linux\" title=\"Available on Linux\"><\/i> <i class=\"for-icon fab fa-apple\" title=\"Available on Mac OS\"><\/i>","platform":"Steam","region":"Global","price":"19.99","price_without_coupon":"19.99","discount":0,"discount_without_coupon":0,"in_basket":false,"coupon_info":[false,"",0,""],"bg":"https:\/\/imgcdn1.nexarda.com\/uploads\/-\/2020\/1604005404-0ffeae6ffd226c7667a398bd1f71d2ac716e6b37bfc4581d5e50d07f58728568.jpg"}
{"id":"22660","type":0,"store":"GOG","store_type":"Official Store","store_is_official":true,"store_css":"gog","store_image":"gog","edition_name":"Standard Edition","edition_html":"Standard&#x20;Edition&#x20;<i class=\"for-icon fab fa-windows\" title=\"Available on Windows\"><\/i> <i class=\"for-icon fab fa-linux\" title=\"Available on Linux\"><\/i> <i class=\"for-icon fab fa-apple\" title=\"Available on Mac OS\"><\/i>","platform":"GOG","region":"Global","price":"19.99","price_without_coupon":"19.99","discount":0,"discount_without_coupon":0,"in_basket":false,"coupon_info":[false,"",0,""],"bg":"https:\/\/imgcdn1.nexarda.com\/uploads\/-\/2020\/1604005404-0ffeae6ffd226c7667a398bd1f71d2ac716e6b37bfc4581d5e50d07f58728568.jpg"}
{"id":"22661","type":0,"store":"Gamivo","store_type":"Marketplace","store_is_official":false,"store_css":"gamivo","store_image":"gamivo","edition_name":"Standard Edition","edition_html":"Standard&#x20;Edition&#x20;<i class=\"for-icon fab fa-windows\" title=\"Available on Windows\"><\/i> <i class=\"for-icon fab fa-linux\" title=\"Available on Linux\"><\/i> <i class=\"for-icon fab fa-apple\" title=\"Available on Mac OS\"><\/i>","platform":"Steam","region":"Global","price":"6.61","price_without_coupon":"7.18","discount":8,"discount_without_coupon":0,"in_basket":false,"coupon_info":[true,"ROBO4",8,"Should work on all products, gives 8% off total basket price at checkout."],"bg":"https:\/\/imgcdn1.nexarda.com\/uploads\/-\/2020\/1604005404-0ffeae6ffd226c7667a398bd1f71d2ac716e6b37bfc4581d5e50d07f58728568.jpg"}
{"id":"22662","type":0,"store":"G2A","store_type":"Marketplace","store_is_official":false,"store_css":"gtwoa","store_image":"g2a","edition_name":"Standard Edition","edition_html":"Standard&#x20;Edition&#x20;<i class=\"for-icon fab fa-windows\" title=\"Available on Windows\"><\/i> <i class=\"for-icon fab fa-linux\" title=\"Available on Linux\"><\/i> <i class=\"for-icon fab fa-apple\" title=\"Available on Mac OS\"><\/i>","platform":"Steam","region":"Global","price":"9.81","price_without_coupon":"9.81","discount":0,"discount_without_coupon":0,"in_basket":false,"coupon_info":[false,"",0,""],"bg":"https:\/\/imgcdn1.nexarda.com\/uploads\/-\/2020\/1604005404-0ffeae6ffd226c7667a398bd1f71d2ac716e6b37bfc4581d5e50d07f58728568.jpg"}
{"id":"22663","type":0,"store":"Instant Gaming","store_type":"Key Seller","store_is_official":false,"store_css":"instant-gaming","store_image":"instant-gaming","edition_name":"Standard Edition","edition_html":"Standard&#x20;Edition&#x20;<i class=\"for-icon fab fa-windows\" title=\"Available on Windows\"><\/i> <i class=\"for-icon fab fa-linux\" title=\"Available on Linux\"><\/i> <i class=\"for-icon fab fa-apple\" title=\"Available on Mac OS\"><\/i>","platform":"Steam","region":"Global","price":"-1.00","price_without_coupon":"-1.00","discount":0,"discount_without_coupon":0,"in_basket":false,"coupon_info":[false,"",0,""],"bg":"https:\/\/imgcdn1.nexarda.com\/uploads\/-\/2020\/1604005404-0ffeae6ffd226c7667a398bd1f71d2ac716e6b37bfc4581d5e50d07f58728568.jpg"}
{"id":"22664","type":0,"store":"Kinguin","store_type":"Marketplace","store_is_official":false,"store_css":"kinguin","store_image":"kinguin","edition_name":"Standard Edition","edition_html":"Standard&#x20;Edition&#x20;<i class=\"for-icon fab fa-windows\" title=\"Available on Windows\"><\/i> <i class=\"for-icon fab fa-linux\" title=\"Available on Linux\"><\/i> <i class=\"for-icon fab fa-apple\" title=\"Available on Mac OS\"><\/i>","platform":"Steam","region":"Global","price":"10.05","price_without_coupon":"10.05","discount":0,"discount_without_coupon":0,"in_basket":false,"coupon_info":[false,"",0,""],"bg":"https:\/\/imgcdn1.nexarda.com\/uploads\/-\/2020\/1604005404-0ffeae6ffd226c7667a398bd1f71d2ac716e6b37bfc4581d5e50d07f58728568.jpg"}
{"id":"22665","type":0,"store":"Steam","store_type":"Official Store","store_is_official":true,"store_css":"steam","store_image":"steam","edition_name":"Deluxe Edition","edition_html":"Deluxe&#x20;Edition&#x20;<i class=\"for-icon fab fa-windows\" title=\"Available on Windows\"><\/i> <i class=\"for-icon fab fa-linux\" title=\"Available on Linux\"><\/i> <i class=\"for-icon fab fa-apple\" title=\"Available on Mac OS\"><\/i>","platform":"Steam","region":"Global","price":"24.99","price_without_coupon":"24.99","discount":0,"discount_without_coupon":0,"in_basket":false,"coupon_info":[false,"",0,""],"bg":"https:\/\/imgcdn1.nexarda.com\/uploads\/-\/2020\/1604005404-0ffeae6ffd226c7667a398bd1f71d2ac716e6b37bfc4581d5e50d07f58728568.jpg"}
{"id":"22666","type":0,"store":"Kinguin","store_type":"Marketplace","store_is_official":false,"store_css":"kinguin","store_image":"kinguin","edition_name":"Deluxe Edition","edition_html":"Deluxe&#x20;Edition&#x20;<i class=\"for-icon fab fa-windows\" title=\"Available on Windows\"><\/i> <i class=\"for-icon fab fa-linux\" title=\"Available on Linux\"><\/i> <i class=\"for-icon fab fa-apple\" title=\"Available on Mac OS\"><\/i>","platform":"Steam","region":"Global","price":"15.43","price_without_coupon":"15.43","discount":0,"discount_without_coupon":0,"in_basket":false,"coupon_info":[false,"",0,""],"bg":"https:\/\/imgcdn1.nexarda.com\/uploads\/-\/2020\/1604005404-0ffeae6ffd226c7667a398bd1f71d2ac716e6b37bfc4581d5e50d07f58728568.jpg"}
{"id":"22667","type":0,"store":"GOG","store_type":"Official Store","store_is_official":true,"store_css":"gog","store_image":"gog","edition_name":"Deluxe Edition","edition_html":"Deluxe&#x20;Edition&#x20;<i class=\"for-icon fab fa-windows\" title=\"Available on Windows\"><\/i> <i class=\"for-icon fab fa-linux\" title=\"Available on Linux\"><\/i> <i class=\"for-icon fab fa-apple\" title=\"Available on Mac OS\"><\/i>","platform":"GOG","region":"Global","price":"24.99","price_without_coupon":"24.99","discount":0,"discount_without_coupon":0,"in_basket":false,"coupon_info":[false,"",0,""],"bg":"https:\/\/imgcdn1.nexarda.com\/uploads\/-\/2020\/1604005404-0ffeae6ffd226c7667a398bd1f71d2ac716e6b37bfc4581d5e50d07f58728568.jpg"}
{"id":"22668","type":0,"store":"Gamivo","store_type":"Marketplace","store_is_official":false,"store_css":"gamivo","store_image":"gamivo","edition_name":"Deluxe Edition","edition_html":"Deluxe&#x20;Edition&#x20;<i class=\"for-icon fab fa-windows\" title=\"Available on Windows\"><\/i> <i class=\"for-icon fab fa-linux\" title=\"Available on Linux\"><\/i> <i class=\"for-icon fab fa-apple\" title=\"Available on Mac OS\"><\/i>","platform":"Steam","region":"Global","price":"13.01","price_without_coupon":"14.14","discount":8,"discount_without_coupon":0,"in_basket":false,"coupon_info":[true,"ROBO4",8,"Should work on all products, gives 8% off total basket price at checkout."],"bg":"https:\/\/imgcdn1.nexarda.com\/uploads\/-\/2020\/1604005404-0ffeae6ffd226c7667a398bd1f71d2ac716e6b37bfc4581d5e50d07f58728568.jpg"}
{"id":"22669","type":0,"store":"G2A","store_type":"Marketplace","store_is_official":false,"store_css":"gtwoa","store_image":"g2a","edition_name":"Deluxe Edition","edition_html":"Deluxe&#x20;Edition&#x20;<i class=\"for-icon fab fa-windows\" title=\"Available on Windows\"><\/i> <i class=\"for-icon fab fa-linux\" title=\"Available on Linux\"><\/i> <i class=\"for-icon fab fa-apple\" title=\"Available on Mac OS\"><\/i>","platform":"Steam","region":"Global","price":"9.91","price_without_coupon":"9.91","discount":0,"discount_without_coupon":0,"in_basket":false,"coupon_info":[false,"",0,""],"bg":"https:\/\/imgcdn1.nexarda.com\/uploads\/-\/2020\/1604005404-0ffeae6ffd226c7667a398bd1f71d2ac716e6b37bfc4581d5e50d07f58728568.jpg"}
{"id":"22670","type":0,"store":"Instant Gaming","store_type":"Key Seller","store_is_official":false,"store_css":"instant-gaming","store_image":"instant-gaming","edition_name":"Standard Edition","edition_html":"Standard&#x20;Edition&#x20;<i class=\"for-icon fas fa-gamepad\" title=\"Available on Nintendo Switch\"><\/i><span class=\"for-icon-text\" data-shape=\"switch\">SWITCH<\/span>","platform":"Nintendo","region":"Europe","price":"-1.00","price_without_coupon":"-1.00","discount":0,"discount_without_coupon":0,"in_basket":false,"coupon_info":[false,"",0,""],"bg":"https:\/\/imgcdn1.nexarda.com\/uploads\/-\/2020\/1604005404-0ffeae6ffd226c7667a398bd1f71d2ac716e6b37bfc4581d5e50d07f58728568.jpg"}
{"id":"22671","type":0,"store":"CeX","store_type":"Marketplace","store_is_official":false,"store_css":"cex","store_image":"cex","edition_name":"Standard Edition","edition_html":"Standard&#x20;Edition&#x20;<i class=\"for-icon fab fa-playstation\" title=\"Available on PlayStation 4\"><\/i><span class=\"for-icon-text\" data-shape=\"playstation\">PS4<\/span>","platform":"PlayStation","region":"Global","price":"-99.00","price_without_coupon":"-99.00","discount":0,"discount_without_coupon":0,"in_basket":false,"coupon_info":[false,"",0,""],"bg":"https:\/\/imgcdn1.nexarda.com\/uploads\/-\/2020\/1604005404-0ffeae6ffd226c7667a398bd1f71d2ac716e6b37bfc4581d5e50d07f58728568.jpg"}
{"id":"22672","type":0,"store":"CeX","store_type":"Marketplace","store_is_official":false,"store_css":"cex","store_image":"cex","edition_name":"Standard Edition","edition_html":"Standard&#x20;Edition&#x20;<i class=\"for-icon fas fa-gamepad\" title=\"Available on Nintendo Switch\"><\/i><span class=\"for-icon-text\" data-shape=\"switch\">SWITCH<\/span>","platform":"Nintendo","region":"Global","price":"-99.00","price_without_coupon":"-99.00","discount":0,"discount_without_coupon":0,"in_basket":false,"coupon_info":[false,"",0,""],"bg":"https:\/\/imgcdn1.nexarda.com\/uploads\/-\/2020\/1604005404-0ffeae6ffd226c7667a398bd1f71d2ac716e6b37bfc4581d5e50d07f58728568.jpg"}
{"id":"22673","type":0,"store":"CDKeys","store_type":"Key Seller","store_is_official":false,"store_css":"cdkeys","store_image":"cdkeys","edition_name":"Standard Edition","edition_html":"Standard&#x20;Edition&#x20;<i class=\"for-icon fas fa-gamepad\" title=\"Available on Nintendo Switch\"><\/i><span class=\"for-icon-text\" data-shape=\"switch\">SWITCH<\/span>","platform":"Nintendo","region":"Europe","price":"-1.00","price_without_coupon":"-1.00","discount":0,"discount_without_coupon":0,"in_basket":false,"coupon_info":[false,"",0,""],"bg":"https:\/\/imgcdn1.nexarda.com\/uploads\/-\/2020\/1604005404-0ffeae6ffd226c7667a398bd1f71d2ac716e6b37bfc4581d5e50d07f58728568.jpg"}
{"id":"22674","type":0,"store":"Base","store_type":"Official Store","store_is_official":true,"store_css":"base","store_image":"base","edition_name":"Standard Edition","edition_html":"Standard&#x20;Edition&#x20;<i class=\"for-icon fab fa-playstation\" title=\"Available on PlayStation 4\"><\/i><span class=\"for-icon-text\" data-shape=\"playstation\">PS4<\/span>","platform":"PlayStation","region":"Global","price":"18.51","price_without_coupon":"18.51","discount":0,"discount_without_coupon":0,"in_basket":false,"coupon_info":[false,"",0,""],"bg":"https:\/\/imgcdn1.nexarda.com\/uploads\/-\/2020\/1604005404-0ffeae6ffd226c7667a398bd1f71d2ac716e6b37bfc4581d5e50d07f58728568.jpg"}
{"id":"22675","type":0,"store":"Argos","store_type":"Official Store","store_is_official":true,"store_css":"argos","store_image":"argos","edition_name":"Standard Edition","edition_html":"Standard&#x20;Edition&#x20;<i class=\"for-icon fas fa-gamepad\" title=\"Available on Nintendo Switch\"><\/i><span class=\"for-icon-text\" data-shape=\"switch\">SWITCH<\/span>","platform":"Nintendo","region":"Global","price":"-99.00","price_without_coupon":"-99.00","discount":0,"discount_without_coupon":0,"in_basket":false,"coupon_info":[false,"",0,""],"bg":"https:\/\/imgcdn1.nexarda.com\/uploads\/-\/2020\/1604005404-0ffeae6ffd226c7667a398bd1f71d2ac716e6b37bfc4581d5e50d07f58728568.jpg"}
{"id":"22676","type":0,"store":"365Games","store_type":"Official Store","store_is_official":true,"store_css":"threesixfivegames","store_image":"365games","edition_name":"Standard Edition","edition_html":"Standard&#x20;Edition&#x20;<i class=\"for-icon fas fa-gamepad\" title=\"Available on Nintendo Switch\"><\/i><span class=\"for-icon-text\" data-shape=\"switch\">SWITCH<\/span>","platform":"Nintendo","region":"Global","price":"25.41","price_without_coupon":"25.41","discount":0,"discount_without_coupon":0,"in_basket":false,"coupon_info":[false,"",0,""],"bg":"https:\/\/imgcdn1.nexarda.com\/uploads\/-\/2020\/1604005404-0ffeae6ffd226c7667a398bd1f71d2ac716e6b37bfc4581d5e50d07f58728568.jpg"}
{"id":"22677","type":0,"store":"Walmart","store_type":"Official Store","store_is_official":true,"store_css":"walmart","store_image":"walmart","edition_name":"Standard Edition","edition_html":"Standard&#x20;Edition&#x20;<i class=\"for-icon fab fa-playstation\" title=\"Available on PlayStation 4\"><\/i><span class=\"for-icon-text\" data-shape=\"playstation\">PS4<\/span>","platform":"PlayStation","region":"Global","price":"41.94","price_without_coupon":"41.94","discount":0,"discount_without_coupon":0,"in_basket":false,"coupon_info":[false,"",0,""],"bg":"https:\/\/imgcdn1.nexarda.com\/uploads\/-\/2020\/1604005404-0ffeae6ffd226c7667a398bd1f71d2ac716e6b37bfc4581d5e50d07f58728568.jpg"}
{"id":"22678","type":0,"store":"Walmart","store_type":"Official Store","store_is_official":true,"store_css":"walmart","store_image":"walmart","edition_name":"Standard Edition","edition_html":"Standard&#x20;Edition&#x20;<i class=\"for-icon fas fa-gamepad\" title=\"Available on Nintendo Switch\"><\/i><span class=\"for-icon-text\" data-shape=\"switch\">SWITCH<\/span>","platform":"Nintendo","region":"Global","price":"27.56","price_without_coupon":"27.56","discount":0,"discount_without_coupon":0,"in_basket":false,"coupon_info":[false,"",0,""],"bg":"https:\/\/imgcdn1.nexarda.com\/uploads\/-\/2020\/1604005404-0ffeae6ffd226c7667a398bd1f71d2ac716e6b37bfc4581d5e50d07f58728568.jpg"}
{"id":"22679","type":0,"store":"Amazon","store_type":"Official Store","store_is_official":true,"store_css":"amazon","store_image":"amazon","edition_name":"Standard Edition","edition_html":"Standard&#x20;Edition&#x20;<i class=\"for-icon fab fa-playstation\" title=\"Available on PlayStation 4\"><\/i><span class=\"for-icon-text\" data-shape=\"playstation\">PS4<\/span>","platform":"PlayStation","region":"Global","price":"26.76","price_without_coupon":"26.76","discount":0,"discount_without_coupon":0,"in_basket":false,"coupon_info":[false,"",0,""],"bg":"https:\/\/imgcdn1.nexarda.com\/uploads\/-\/2020\/1604005404-0ffeae6ffd226c7667a398bd1f71d2ac716e6b37bfc4581d5e50d07f58728568.jpg"}
{"id":"22680","type":0,"store":"Amazon","store_type":"Official Store","store_is_official":true,"store_css":"amazon","store_image":"amazon","edition_name":"Standard Edition","edition_html":"Standard&#x20;Edition&#x20;<i class=\"for-icon fas fa-gamepad\" title=\"Available on Nintendo Switch\"><\/i><span class=\"for-icon-text\" data-shape=\"switch\">SWITCH<\/span>","platform":"Nintendo","region":"Global","price":"-99.00","price_without_coupon":"-99.00","discount":0,"discount_without_coupon":0,"in_basket":false,"coupon_info":[false,"",0,""],"bg":"https:\/\/imgcdn1.nexarda.com\/uploads\/-\/2020\/1604005404-0ffeae6ffd226c7667a398bd1f71d2ac716e6b37bfc4581d5e50d07f58728568.jpg"}
{"id":"22681","type":0,"store":"Nintendo Store","store_type":"Official Store","store_is_official":true,"store_css":"nintendo-store","store_image":"nintendo-store","edition_name":"Standard Edition","edition_html":"Standard&#x20;Edition&#x20;<i class=\"for-icon fas fa-gamepad\" title=\"Available on Nintendo Switch\"><\/i><span class=\"for-icon-text\" data-shape=\"switch\">SWITCH<\/span>","platform":"Nintendo","region":"Global","price":"19.95","price_without_coupon":"19.95","discount":0,"discount_without_coupon":0,"in_basket":false,"coupon_info":[false,"",0,""],"bg":"https:\/\/imgcdn1.nexarda.com\/uploads\/-\/2020\/1604005404-0ffeae6ffd226c7667a398bd1f71d2ac716e6b37bfc4581d5e50d07f58728568.jpg"}