What It's All About
About Ghost Recon: Wildlands
Tom Clancy's Ghost Recon Wildlands is a tactical shooter video game developed by Ubisoft Paris and published by Ubisoft.
STORY:
The game takes place in Bolivia in July 2019. The country has become increasingly unstable as the Santa Blanca Cartel, a previously minor Mexican drug cartel, gains more power and influence within the country to the point where Bolivia has become a narco-state and the world's largest producer of cocaine. The rise in power of this drug cartel concerns the United States Government, as Santa Blanca's influence has begun to spread beyond Bolivia. The last straw comes when a bomb targets the U.S. embassy in La Paz and its intended target, DEA agent Ricardo "Ricky" Sandoval, is kidnapped, tortured and then killed by the Santa Blanca.
CHARACTERS:
The United States Army dispatches a Ghost Recon fireteam to destroy the cartel and reveal the connection between Santa Blanca and the local government. The Ghost team consists of Ghost Leader "Nomad", Tactical Gunner "Midas", Engineer "Holt", and Sniper "Weaver". The Ghosts individually make their own way into Bolivia. They rendezvous and are brought to the mission area in Bolivia by helicopter along with their CIA contact, Karen Bowman, who was also a close friend to Ricky. When they land in the province of Itacua they are met with Pac Katari, leader of the Kataris 26, the only resistance against Santa Blanca. Pac Katari gives them their first mission - to recover Amaru, an older man whose ideologies inspired him to found the Kataris 26, now captured by the Santa Blanca. After this mission, the Ghosts are more or less free to tackle the cartel in any way and order they see fit.
---
Here are the system requirements for Ghost Recon: Wildlands (thanks to PCGameBenchmark.com).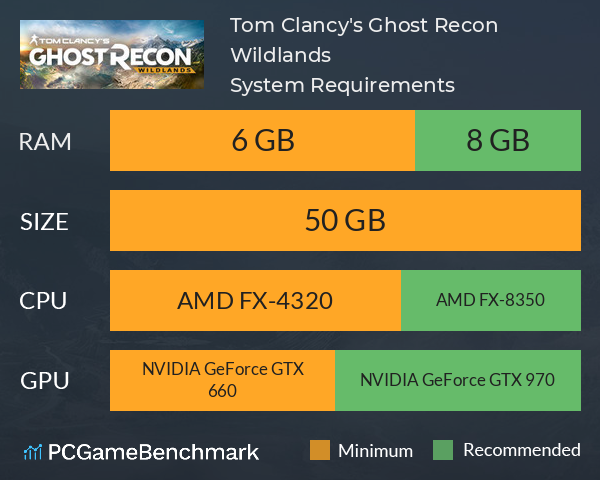 ---
We use ESRB for ratings as it's easier for us, we may add others like PEGI in the future.
---
These are a list of genres and tags that we applied to this game.
Action
Adventure
Driving
Military
Open World
Strategy
Stealth
Shooter
Tactical
War
These are a list of features the game has (e.g. multiplayer, controller support & cloud saves).
Achievements
Cloud Saves
Controller Support
First Person
Multiplayer
Singleplayer
Third Person
Developed by Ubisoft. Published by Ubisoft. See What Others Say About This Game
Ghost Recon: Wildlands Reviews
Write A Review For Ghost Recon: Wildlands
User Reviews (1)
Average rating is 10/10 (100% recommend).
These reviews are written by NEXARDA users.

Critic Reviews (0)
We don't have any ratings from OpenCritic yet.
These reviews are provided by OpenCritic.
Compare Prices & Save Money
Buy Ghost Recon: Wildlands
Support the game developers & publishers by purchasing from Official Stores! You might have to pay a bit more but you'll help the game creators a lot. Click here to show Official Store offers only.
Thank you for showing Official Store offers, by purchasing from an Official Store you will support the developers & publishers of this game so they can continue releasing awesome games & updates.
Ghost Recon: Wildlands
Tom Clancy's Ghost Recon Wildlands is a tactical shooter video game developed by Ubisoft Paris and published by Ubisoft.
"Support Studio" mode has been enabled!
The developer(s)/publisher(s) would like you to purchase this game from an Official Store. Buying from an Official Store directly supports the creators of this game. This is of course optional and you can see all offers if you click here.
{"id":"182","type":0,"store":"CDKeys","store_type":"Key Seller","store_is_official":false,"store_css":"cdkeys","store_image":"cdkeys","edition_name":"Standard Edition","edition_html":"Standard&#x20;Edition&#x20;<i class=\"for-icon fab fa-windows\" title=\"Available on Windows\"><\/i>","platform":"Uplay","region":"Global","price":"17.41","price_without_coupon":"17.41","discount":74,"discount_without_coupon":74,"in_basket":false,"coupon_info":[false,"",0,""],"bg":"https:\/\/imgcdn1.nexarda.com\/main\/games\/2017\/ghost-recon-wildlands.banner.png"}
{"id":"183","type":0,"store":"Amazon","store_type":"Official Store","store_is_official":true,"store_css":"amazon","store_image":"amazon","edition_name":"Standard Edition","edition_html":"Standard&#x20;Edition&#x20;<i class=\"for-icon fab fa-playstation\" title=\"Available on PlayStation 4\"><\/i><span class=\"for-icon-text\" data-shape=\"playstation\">PS4<\/span>","platform":"PlayStation","region":"Global","price":"29.99","price_without_coupon":"29.99","discount":0,"discount_without_coupon":0,"in_basket":false,"coupon_info":[false,"",0,""],"bg":"https:\/\/imgcdn1.nexarda.com\/main\/games\/2017\/ghost-recon-wildlands.banner.png"}
{"id":"184","type":0,"store":"Amazon","store_type":"Official Store","store_is_official":true,"store_css":"amazon","store_image":"amazon","edition_name":"Standard Edition","edition_html":"Standard&#x20;Edition&#x20;<i class=\"for-icon fab fa-xbox\" title=\"Available on Xbox One\"><\/i><span class=\"for-icon-text\" data-shape=\"xbox\">XBOX ONE<\/span>","platform":"Xbox","region":"Global","price":"29.99","price_without_coupon":"29.99","discount":0,"discount_without_coupon":0,"in_basket":false,"coupon_info":[false,"",0,""],"bg":"https:\/\/imgcdn1.nexarda.com\/main\/games\/2017\/ghost-recon-wildlands.banner.png"}
{"id":"186","type":0,"store":"Amazon","store_type":"Official Store","store_is_official":true,"store_css":"amazon","store_image":"amazon","edition_name":"Ultimate Edition","edition_html":"Ultimate&#x20;Edition&#x20;<i class=\"for-icon fab fa-windows\" title=\"Available on Windows\"><\/i>","platform":"Uplay","region":"Global","price":"-99.00","price_without_coupon":"-99.00","discount":0,"discount_without_coupon":0,"in_basket":false,"coupon_info":[false,"",0,""],"bg":"https:\/\/imgcdn1.nexarda.com\/main\/games\/2017\/ghost-recon-wildlands.banner.png"}
{"id":"187","type":0,"store":"Amazon","store_type":"Official Store","store_is_official":true,"store_css":"amazon","store_image":"amazon","edition_name":"Standard Edition","edition_html":"Standard&#x20;Edition&#x20;<i class=\"for-icon fab fa-windows\" title=\"Available on Windows\"><\/i>","platform":"Uplay","region":"Global","price":"-99.00","price_without_coupon":"-99.00","discount":0,"discount_without_coupon":0,"in_basket":false,"coupon_info":[false,"",0,""],"bg":"https:\/\/imgcdn1.nexarda.com\/main\/games\/2017\/ghost-recon-wildlands.banner.png"}
{"id":"974","type":0,"store":"Instant Gaming","store_type":"Key Seller","store_is_official":false,"store_css":"instant-gaming","store_image":"instant-gaming","edition_name":"Standard Edition","edition_html":"Standard&#x20;Edition&#x20;<i class=\"for-icon fab fa-windows\" title=\"Available on Windows\"><\/i>","platform":"Uplay","region":"Europe","price":"17.01","price_without_coupon":"17.01","discount":72,"discount_without_coupon":72,"in_basket":false,"coupon_info":[false,"",0,""],"bg":"https:\/\/imgcdn1.nexarda.com\/main\/games\/2017\/ghost-recon-wildlands.banner.png"}
{"id":"975","type":0,"store":"Instant Gaming","store_type":"Key Seller","store_is_official":false,"store_css":"instant-gaming","store_image":"instant-gaming","edition_name":"Gold Edition","edition_html":"Gold&#x20;Edition&#x20;<i class=\"for-icon fab fa-windows\" title=\"Available on Windows\"><\/i>","platform":"Uplay","region":"Europe","price":"-1.00","price_without_coupon":"-1.00","discount":0,"discount_without_coupon":0,"in_basket":false,"coupon_info":[false,"",0,""],"bg":"https:\/\/imgcdn1.nexarda.com\/main\/games\/2017\/ghost-recon-wildlands.banner.png"}
{"id":"976","type":0,"store":"Instant Gaming","store_type":"Key Seller","store_is_official":false,"store_css":"instant-gaming","store_image":"instant-gaming","edition_name":"Standard Edition","edition_html":"Standard&#x20;Edition&#x20;<i class=\"for-icon fab fa-xbox\" title=\"Available on Xbox One\"><\/i><span class=\"for-icon-text\" data-shape=\"xbox\">XBOX ONE<\/span>","platform":"Xbox","region":"Global","price":"21.95","price_without_coupon":"21.95","discount":64,"discount_without_coupon":64,"in_basket":false,"coupon_info":[false,"",0,""],"bg":"https:\/\/imgcdn1.nexarda.com\/main\/games\/2017\/ghost-recon-wildlands.banner.png"}
{"id":"1766","type":0,"store":"Fanatical","store_type":"Official Store","store_is_official":true,"store_css":"fanatical","store_image":"fanatical","edition_name":"Standard Edition","edition_html":"Standard&#x20;Edition&#x20;<i class=\"for-icon fab fa-windows\" title=\"Available on Windows\"><\/i>","platform":"Uplay","region":"Global","price":"12.99","price_without_coupon":"12.99","discount":74,"discount_without_coupon":74,"in_basket":false,"coupon_info":[false,"",0,""],"bg":"https:\/\/imgcdn1.nexarda.com\/main\/games\/2017\/ghost-recon-wildlands.banner.png"}
{"id":"2767","type":0,"store":"Fanatical","store_type":"Official Store","store_is_official":true,"store_css":"fanatical","store_image":"fanatical","edition_name":"Year 2 Gold Edition","edition_html":"Year&#x20;2&#x20;Gold&#x20;Edition&#x20;<i class=\"for-icon fab fa-windows\" title=\"Available on Windows\"><\/i>","platform":"Uplay","region":"Global","price":"20.79","price_without_coupon":"20.79","discount":74,"discount_without_coupon":74,"in_basket":false,"coupon_info":[false,"",0,""],"bg":"https:\/\/imgcdn1.nexarda.com\/main\/games\/2017\/ghost-recon-wildlands.banner.png"}
{"id":"2768","type":0,"store":"Fanatical","store_type":"Official Store","store_is_official":true,"store_css":"fanatical","store_image":"fanatical","edition_name":"Ultimate Edition","edition_html":"Ultimate&#x20;Edition&#x20;<i class=\"for-icon fab fa-windows\" title=\"Available on Windows\"><\/i>","platform":"Uplay","region":"Global","price":"31.19","price_without_coupon":"31.19","discount":74,"discount_without_coupon":74,"in_basket":false,"coupon_info":[false,"",0,""],"bg":"https:\/\/imgcdn1.nexarda.com\/main\/games\/2017\/ghost-recon-wildlands.banner.png"}
{"id":"2769","type":0,"store":"GamesPlanet","store_type":"Official Store","store_is_official":true,"store_css":"gamesplanet","store_image":"gamesplanet","edition_name":"Standard Edition","edition_html":"Standard&#x20;Edition&#x20;<i class=\"for-icon fab fa-windows\" title=\"Available on Windows\"><\/i>","platform":"Uplay","region":"Global","price":"44.99","price_without_coupon":"44.99","discount":10,"discount_without_coupon":10,"in_basket":false,"coupon_info":[false,"",0,""],"bg":"https:\/\/imgcdn1.nexarda.com\/main\/games\/2017\/ghost-recon-wildlands.banner.png"}
{"id":"2770","type":0,"store":"GamesPlanet","store_type":"Official Store","store_is_official":true,"store_css":"gamesplanet","store_image":"gamesplanet","edition_name":"Ultimate Edition","edition_html":"Ultimate&#x20;Edition&#x20;<i class=\"for-icon fab fa-windows\" title=\"Available on Windows\"><\/i>","platform":"Uplay","region":"Global","price":"107.99","price_without_coupon":"107.99","discount":10,"discount_without_coupon":10,"in_basket":false,"coupon_info":[false,"",0,""],"bg":"https:\/\/imgcdn1.nexarda.com\/main\/games\/2017\/ghost-recon-wildlands.banner.png"}
{"id":"2771","type":0,"store":"GamesPlanet","store_type":"Official Store","store_is_official":true,"store_css":"gamesplanet","store_image":"gamesplanet","edition_name":"Year 2 Gold Edition","edition_html":"Year&#x20;2&#x20;Gold&#x20;Edition&#x20;<i class=\"for-icon fab fa-windows\" title=\"Available on Windows\"><\/i>","platform":"Uplay","region":"Global","price":"71.99","price_without_coupon":"71.99","discount":10,"discount_without_coupon":10,"in_basket":false,"coupon_info":[false,"",0,""],"bg":"https:\/\/imgcdn1.nexarda.com\/main\/games\/2017\/ghost-recon-wildlands.banner.png"}
{"id":"2772","type":0,"store":"Green Man Gaming","store_type":"Official Store","store_is_official":true,"store_css":"green-man-gaming","store_image":"green-man-gaming","edition_name":"Standard Edition","edition_html":"Standard&#x20;Edition&#x20;<i class=\"for-icon fab fa-windows\" title=\"Available on Windows\"><\/i>","platform":"Uplay","region":"Global","price":"49.99","price_without_coupon":"49.99","discount":0,"discount_without_coupon":0,"in_basket":false,"coupon_info":[false,"",0,""],"bg":"https:\/\/imgcdn1.nexarda.com\/main\/games\/2017\/ghost-recon-wildlands.banner.png"}
{"id":"2773","type":0,"store":"Green Man Gaming","store_type":"Official Store","store_is_official":true,"store_css":"green-man-gaming","store_image":"green-man-gaming","edition_name":"Year 2 Gold Edition","edition_html":"Year&#x20;2&#x20;Gold&#x20;Edition&#x20;<i class=\"for-icon fab fa-windows\" title=\"Available on Windows\"><\/i>","platform":"Uplay","region":"Global","price":"79.99","price_without_coupon":"79.99","discount":0,"discount_without_coupon":0,"in_basket":false,"coupon_info":[false,"",0,""],"bg":"https:\/\/imgcdn1.nexarda.com\/main\/games\/2017\/ghost-recon-wildlands.banner.png"}
{"id":"2774","type":0,"store":"Green Man Gaming","store_type":"Official Store","store_is_official":true,"store_css":"green-man-gaming","store_image":"green-man-gaming","edition_name":"Ultimate Edition","edition_html":"Ultimate&#x20;Edition&#x20;<i class=\"for-icon fab fa-windows\" title=\"Available on Windows\"><\/i>","platform":"Uplay","region":"Global","price":"119.99","price_without_coupon":"119.99","discount":0,"discount_without_coupon":0,"in_basket":false,"coupon_info":[false,"",0,""],"bg":"https:\/\/imgcdn1.nexarda.com\/main\/games\/2017\/ghost-recon-wildlands.banner.png"}
{"id":"2775","type":0,"store":"Eneba","store_type":"Marketplace","store_is_official":false,"store_css":"eneba","store_image":"eneba","edition_name":"Standard Edition","edition_html":"Standard&#x20;Edition&#x20;<i class=\"for-icon fab fa-windows\" title=\"Available on Windows\"><\/i>","platform":"Uplay","region":"EMEA","price":"22.03","price_without_coupon":"22.71","discount":3,"discount_without_coupon":0,"in_basket":false,"coupon_info":[true,"NEXARDA",3,"Should work on everything."],"bg":"https:\/\/imgcdn1.nexarda.com\/main\/games\/2017\/ghost-recon-wildlands.banner.png"}
{"id":"2776","type":0,"store":"Eneba","store_type":"Marketplace","store_is_official":false,"store_css":"eneba","store_image":"eneba","edition_name":"Standard Edition","edition_html":"Standard&#x20;Edition&#x20;<i class=\"for-icon fab fa-windows\" title=\"Available on Windows\"><\/i>","platform":"Uplay","region":"Europe","price":"14.44","price_without_coupon":"14.89","discount":3,"discount_without_coupon":0,"in_basket":false,"coupon_info":[true,"NEXARDA",3,"Should work on everything."],"bg":"https:\/\/imgcdn1.nexarda.com\/main\/games\/2017\/ghost-recon-wildlands.banner.png"}
{"id":"2777","type":0,"store":"Eneba","store_type":"Marketplace","store_is_official":false,"store_css":"eneba","store_image":"eneba","edition_name":"Year 2 Gold Edition","edition_html":"Year&#x20;2&#x20;Gold&#x20;Edition&#x20;<i class=\"for-icon fab fa-windows\" title=\"Available on Windows\"><\/i>","platform":"Uplay","region":"Europe","price":"23.20","price_without_coupon":"23.92","discount":3,"discount_without_coupon":0,"in_basket":false,"coupon_info":[true,"NEXARDA",3,"Should work on everything."],"bg":"https:\/\/imgcdn1.nexarda.com\/main\/games\/2017\/ghost-recon-wildlands.banner.png"}
{"id":"15343","type":0,"store":"HRK Game","store_type":"Key Seller","store_is_official":false,"store_css":"hrk-game","store_image":"hrk","edition_name":"Standard Edition","edition_html":"Standard&#x20;Edition&#x20;<i class=\"for-icon fab fa-xbox\" title=\"Available on Xbox One\"><\/i><span class=\"for-icon-text\" data-shape=\"xbox\">XBOX ONE<\/span>","platform":"Xbox","region":"Global","price":"16.99","price_without_coupon":"16.99","discount":71,"discount_without_coupon":71,"in_basket":false,"coupon_info":[false,"",0,""],"bg":"https:\/\/imgcdn1.nexarda.com\/main\/games\/2017\/ghost-recon-wildlands.banner.png"}
{"id":"15344","type":0,"store":"HRK Game","store_type":"Key Seller","store_is_official":false,"store_css":"hrk-game","store_image":"hrk","edition_name":"Standard Edition","edition_html":"Standard&#x20;Edition&#x20;<i class=\"for-icon fab fa-windows\" title=\"Available on Windows\"><\/i>","platform":"Uplay","region":"EMEA","price":"16.28","price_without_coupon":"16.28","discount":72,"discount_without_coupon":72,"in_basket":false,"coupon_info":[false,"",0,""],"bg":"https:\/\/imgcdn1.nexarda.com\/main\/games\/2017\/ghost-recon-wildlands.banner.png"}
{"id":"15345","type":0,"store":"HRK Game","store_type":"Key Seller","store_is_official":false,"store_css":"hrk-game","store_image":"hrk","edition_name":"Ultimate Edition","edition_html":"Ultimate&#x20;Edition&#x20;<i class=\"for-icon fab fa-windows\" title=\"Available on Windows\"><\/i>","platform":"Uplay","region":"Europe","price":"40.85","price_without_coupon":"40.85","discount":59,"discount_without_coupon":59,"in_basket":false,"coupon_info":[false,"",0,""],"bg":"https:\/\/imgcdn1.nexarda.com\/main\/games\/2017\/ghost-recon-wildlands.banner.png"}
{"id":"15346","type":0,"store":"Ubisoft Store","store_type":"Official Store","store_is_official":true,"store_css":"ubisoft-store","store_image":"ubisoft-store","edition_name":"Standard Edition","edition_html":"Standard&#x20;Edition&#x20;<i class=\"for-icon fab fa-windows\" title=\"Available on Windows\"><\/i>","platform":"Uplay","region":"Global","price":"15.00","price_without_coupon":"15.00","discount":69,"discount_without_coupon":69,"in_basket":false,"coupon_info":[false,"",0,""],"bg":"https:\/\/imgcdn1.nexarda.com\/main\/games\/2017\/ghost-recon-wildlands.banner.png"}
{"id":"15347","type":0,"store":"Ubisoft Store","store_type":"Official Store","store_is_official":true,"store_css":"ubisoft-store","store_image":"ubisoft-store","edition_name":"Gold Edition","edition_html":"Gold&#x20;Edition&#x20;<i class=\"for-icon fab fa-windows\" title=\"Available on Windows\"><\/i>","platform":"Uplay","region":"Global","price":"24.00","price_without_coupon":"24.00","discount":70,"discount_without_coupon":70,"in_basket":false,"coupon_info":[false,"",0,""],"bg":"https:\/\/imgcdn1.nexarda.com\/main\/games\/2017\/ghost-recon-wildlands.banner.png"}
{"id":"15348","type":0,"store":"Ubisoft Store","store_type":"Official Store","store_is_official":true,"store_css":"ubisoft-store","store_image":"ubisoft-store","edition_name":"Ultimate Edition","edition_html":"Ultimate&#x20;Edition&#x20;<i class=\"for-icon fab fa-windows\" title=\"Available on Windows\"><\/i>","platform":"Uplay","region":"Global","price":"36.00","price_without_coupon":"36.00","discount":70,"discount_without_coupon":70,"in_basket":false,"coupon_info":[false,"",0,""],"bg":"https:\/\/imgcdn1.nexarda.com\/main\/games\/2017\/ghost-recon-wildlands.banner.png"}
{"id":"22108","type":0,"store":"Steam","store_type":"Official Store","store_is_official":true,"store_css":"steam","store_image":"steam","edition_name":"Standard Edition","edition_html":"Standard&#x20;Edition&#x20;<i class=\"for-icon fab fa-windows\" title=\"Available on Windows\"><\/i>","platform":"Steam","region":"Global","price":"14.99","price_without_coupon":"14.99","discount":70,"discount_without_coupon":70,"in_basket":false,"coupon_info":[false,"",0,""],"bg":"https:\/\/imgcdn1.nexarda.com\/main\/games\/2017\/ghost-recon-wildlands.banner.png"}
{"id":"22109","type":0,"store":"Steam","store_type":"Official Store","store_is_official":true,"store_css":"steam","store_image":"steam","edition_name":"Gold Edition","edition_html":"Gold&#x20;Edition&#x20;<i class=\"for-icon fab fa-windows\" title=\"Available on Windows\"><\/i>","platform":"Steam","region":"Global","price":"23.99","price_without_coupon":"23.99","discount":70,"discount_without_coupon":70,"in_basket":false,"coupon_info":[false,"",0,""],"bg":"https:\/\/imgcdn1.nexarda.com\/main\/games\/2017\/ghost-recon-wildlands.banner.png"}
{"id":"22110","type":0,"store":"Steam","store_type":"Official Store","store_is_official":true,"store_css":"steam","store_image":"steam","edition_name":"Ultimate Edition","edition_html":"Ultimate&#x20;Edition&#x20;<i class=\"for-icon fab fa-windows\" title=\"Available on Windows\"><\/i>","platform":"Steam","region":"Global","price":"35.99","price_without_coupon":"35.99","discount":70,"discount_without_coupon":70,"in_basket":false,"coupon_info":[false,"",0,""],"bg":"https:\/\/imgcdn1.nexarda.com\/main\/games\/2017\/ghost-recon-wildlands.banner.png"}
{"id":"22111","type":0,"store":"Epic Games Store","store_type":"Official Store","store_is_official":true,"store_css":"epic-games-store","store_image":"epic-games-store","edition_name":"Gold Edition","edition_html":"Gold&#x20;Edition&#x20;<i class=\"for-icon fab fa-windows\" title=\"Available on Windows\"><\/i>","platform":"Epic Games Launcher","region":"Global","price":"20.99","price_without_coupon":"20.99","discount":70,"discount_without_coupon":70,"in_basket":false,"coupon_info":[false,"",0,""],"bg":"https:\/\/imgcdn1.nexarda.com\/main\/games\/2017\/ghost-recon-wildlands.banner.png"}
{"id":"22112","type":0,"store":"Epic Games Store","store_type":"Official Store","store_is_official":true,"store_css":"epic-games-store","store_image":"epic-games-store","edition_name":"Ultimate Edition","edition_html":"Ultimate&#x20;Edition&#x20;<i class=\"for-icon fab fa-windows\" title=\"Available on Windows\"><\/i>","platform":"Epic Games Launcher","region":"Global","price":"29.99","price_without_coupon":"29.99","discount":70,"discount_without_coupon":70,"in_basket":false,"coupon_info":[false,"",0,""],"bg":"https:\/\/imgcdn1.nexarda.com\/main\/games\/2017\/ghost-recon-wildlands.banner.png"}
{"id":"22113","type":0,"store":"Epic Games Store","store_type":"Official Store","store_is_official":true,"store_css":"epic-games-store","store_image":"epic-games-store","edition_name":"Standard Edition","edition_html":"Standard&#x20;Edition&#x20;<i class=\"for-icon fab fa-windows\" title=\"Available on Windows\"><\/i>","platform":"Epic Games Launcher","region":"Global","price":"14.99","price_without_coupon":"14.99","discount":70,"discount_without_coupon":70,"in_basket":false,"coupon_info":[false,"",0,""],"bg":"https:\/\/imgcdn1.nexarda.com\/main\/games\/2017\/ghost-recon-wildlands.banner.png"}