What It's All About
About Forza Horizon 4
Forza Horizon 4 is an open world racing video game developed by Playground Games and published by Microsoft Studios.
LOCATION:
The game is based in a fictional representation of the United Kingdom and features over 450 licensed cars. An update to the game on 25 October 2018 will feature a route creator which enables players to create their own races. The game takes place in a synchronised shared world, compared to the AI-driven Drivatars from its predecessors, with each server supporting up to 72 players. The game is also playable in offline mode.
FEATURES:
Players have the opportunity to buy in-game houses which unlock new items, cars and game-play perks. The game features a dynamic weather system that also depicts the change of seasons. The environment in the world will change depending on the season: for example, lakes will freeze over in winter and allow players the ability to explore regions of the game world that would be inaccessible during all the other seasons. The seasons are fixed across the game's servers, meaning that all players will experience the same conditions at the same time. After completing a prologue series of events which introduce players to all four seasons, the shared-world seasons will change every week, with the changes happening on Thursdays at 3:30 PM GMT. The season changes are forewarned to players in the game with a countdown clock, which, when finished, will trigger a short cinematic cutscene showing the previous season changing to the new one, although the cinematic will be delayed for players who are in the middle of an event or activity.
---
Here are the system requirements for Forza Horizon 4 (thanks to PCGameBenchmark.com).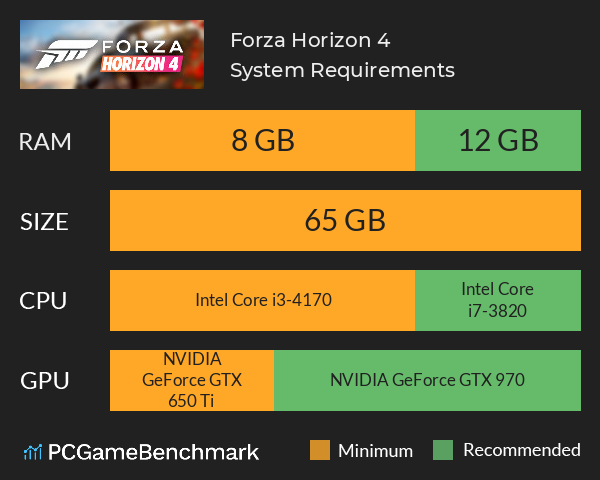 ---
We use ESRB for ratings as it's easier for us, we may add others like PEGI in the future.
---
These are a list of genres and tags that we applied to this game.
Casual
Driving
Open World
Racing
These are a list of features the game has (e.g. multiplayer, controller support & cloud saves).
Achievements
Cloud Saves
Controller Support
First Person
Multiplayer
Singleplayer
Third Person
Developed by Playground Games and Turn 10 Studios.

Published by Xbox Game Studios.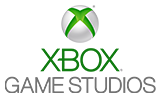 See What Others Say About This Game
Forza Horizon 4 Reviews
Write A Review For Forza Horizon 4
User Reviews (0)
Average rating is 0/10 (0% recommend).
These reviews are written by NEXARDA users.

Critic Reviews (0)
We don't have any ratings from OpenCritic yet.
These reviews are provided by OpenCritic.
Compare Prices & Save Money
Buy Forza Horizon 4
Support the game developers & publishers by purchasing from Official Stores! You might have to pay a bit more but you'll help the game creators a lot. Click here to show Official Store offers only.
Thank you for showing Official Store offers, by purchasing from an Official Store you will support the developers & publishers of this game so they can continue releasing awesome games & updates.
Forza Horizon 4
Forza Horizon 4 is an open world racing video game developed by Playground Games and published by Microsoft Studios.
"Support Studio" mode has been enabled!
The developer(s)/publisher(s) would like you to purchase this game from an Official Store. Buying from an Official Store directly supports the creators of this game. This is of course optional and you can see all offers if you click here.
{"id":"167","type":0,"store":"Microsoft Store","store_type":"Official Store","store_is_official":true,"store_css":"microsoft-store","store_image":"microsoft-store","edition_name":"Standard Edition","edition_html":"Standard&#x20;Edition&#x20;<i class=\"for-icon fab fa-xbox\" title=\"Available on Xbox One\"><\/i><span class=\"for-icon-text\" data-shape=\"xbox\">XBOX ONE<\/span>&#x20;<i class=\"for-icon fab fa-windows\" title=\"Available on Windows\"><\/i>","platform":"Xbox Play Anywhere","region":"Global","price":"29.99","price_without_coupon":"29.99","discount":50,"discount_without_coupon":50,"in_basket":false,"coupon_info":[false,"",0,""],"bg":"https:\/\/imgcdn1.nexarda.com\/main\/games\/2018\/forza-horizon-4.banner.png"}
{"id":"168","type":0,"store":"Microsoft Store","store_type":"Official Store","store_is_official":true,"store_css":"microsoft-store","store_image":"microsoft-store","edition_name":"Deluxe Edition","edition_html":"Deluxe&#x20;Edition&#x20;<i class=\"for-icon fab fa-xbox\" title=\"Available on Xbox One\"><\/i><span class=\"for-icon-text\" data-shape=\"xbox\">XBOX ONE<\/span>&#x20;<i class=\"for-icon fab fa-windows\" title=\"Available on Windows\"><\/i>","platform":"Xbox Play Anywhere","region":"Global","price":"79.99","price_without_coupon":"79.99","discount":0,"discount_without_coupon":0,"in_basket":false,"coupon_info":[false,"",0,""],"bg":"https:\/\/imgcdn1.nexarda.com\/main\/games\/2018\/forza-horizon-4.banner.png"}
{"id":"169","type":0,"store":"Microsoft Store","store_type":"Official Store","store_is_official":true,"store_css":"microsoft-store","store_image":"microsoft-store","edition_name":"Ultimate Edition","edition_html":"Ultimate&#x20;Edition&#x20;<i class=\"for-icon fab fa-xbox\" title=\"Available on Xbox One\"><\/i><span class=\"for-icon-text\" data-shape=\"xbox\">XBOX ONE<\/span>&#x20;<i class=\"for-icon fab fa-windows\" title=\"Available on Windows\"><\/i>","platform":"Xbox Play Anywhere","region":"Global","price":"44.99","price_without_coupon":"44.99","discount":55,"discount_without_coupon":55,"in_basket":false,"coupon_info":[false,"",0,""],"bg":"https:\/\/imgcdn1.nexarda.com\/main\/games\/2018\/forza-horizon-4.banner.png"}
{"id":"170","type":0,"store":"Eneba","store_type":"Marketplace","store_is_official":false,"store_css":"eneba","store_image":"eneba","edition_name":"Standard Edition","edition_html":"Standard&#x20;Edition&#x20;<i class=\"for-icon fab fa-xbox\" title=\"Available on Xbox One\"><\/i><span class=\"for-icon-text\" data-shape=\"xbox\">XBOX ONE<\/span>&#x20;<i class=\"for-icon fab fa-windows\" title=\"Available on Windows\"><\/i>","platform":"Xbox Play Anywhere","region":"Global","price":"34.29","price_without_coupon":"35.35","discount":3,"discount_without_coupon":0,"in_basket":false,"coupon_info":[true,"NEXARDA",3,"Should work on everything."],"bg":"https:\/\/imgcdn1.nexarda.com\/main\/games\/2018\/forza-horizon-4.banner.png"}
{"id":"171","type":0,"store":"CDKeys","store_type":"Key Seller","store_is_official":false,"store_css":"cdkeys","store_image":"cdkeys","edition_name":"Standard Edition","edition_html":"Standard&#x20;Edition&#x20;<i class=\"for-icon fab fa-xbox\" title=\"Available on Xbox One\"><\/i><span class=\"for-icon-text\" data-shape=\"xbox\">XBOX ONE<\/span>&#x20;<i class=\"for-icon fab fa-windows\" title=\"Available on Windows\"><\/i>","platform":"Xbox Play Anywhere","region":"Global","price":"46.54","price_without_coupon":"46.54","discount":30,"discount_without_coupon":30,"in_basket":false,"coupon_info":[false,"",0,""],"bg":"https:\/\/imgcdn1.nexarda.com\/main\/games\/2018\/forza-horizon-4.banner.png"}
{"id":"172","type":0,"store":"CDKeys","store_type":"Key Seller","store_is_official":false,"store_css":"cdkeys","store_image":"cdkeys","edition_name":"Deluxe Edition","edition_html":"Deluxe&#x20;Edition&#x20;<i class=\"for-icon fab fa-xbox\" title=\"Available on Xbox One\"><\/i><span class=\"for-icon-text\" data-shape=\"xbox\">XBOX ONE<\/span>&#x20;<i class=\"for-icon fab fa-windows\" title=\"Available on Windows\"><\/i>","platform":"Xbox Play Anywhere","region":"Global","price":"46.54","price_without_coupon":"46.54","discount":46,"discount_without_coupon":46,"in_basket":false,"coupon_info":[false,"",0,""],"bg":"https:\/\/imgcdn1.nexarda.com\/main\/games\/2018\/forza-horizon-4.banner.png"}
{"id":"173","type":0,"store":"CDKeys","store_type":"Key Seller","store_is_official":false,"store_css":"cdkeys","store_image":"cdkeys","edition_name":"Ultimate Edition","edition_html":"Ultimate&#x20;Edition&#x20;<i class=\"for-icon fab fa-xbox\" title=\"Available on Xbox One\"><\/i><span class=\"for-icon-text\" data-shape=\"xbox\">XBOX ONE<\/span>&#x20;<i class=\"for-icon fab fa-windows\" title=\"Available on Windows\"><\/i>","platform":"Xbox Play Anywhere","region":"Global","price":"87.37","price_without_coupon":"87.37","discount":17,"discount_without_coupon":17,"in_basket":false,"coupon_info":[false,"",0,""],"bg":"https:\/\/imgcdn1.nexarda.com\/main\/games\/2018\/forza-horizon-4.banner.png"}
{"id":"377","type":0,"store":"Instant Gaming","store_type":"Key Seller","store_is_official":false,"store_css":"instant-gaming","store_image":"instant-gaming","edition_name":"Standard Edition","edition_html":"Standard&#x20;Edition&#x20;<i class=\"for-icon fab fa-xbox\" title=\"Available on Xbox One\"><\/i><span class=\"for-icon-text\" data-shape=\"xbox\">XBOX ONE<\/span>&#x20;<i class=\"for-icon fab fa-windows\" title=\"Available on Windows\"><\/i>","platform":"Xbox Play Anywhere","region":"Global","price":"38.75","price_without_coupon":"38.75","discount":54,"discount_without_coupon":54,"in_basket":false,"coupon_info":[false,"",0,""],"bg":"https:\/\/imgcdn1.nexarda.com\/main\/games\/2018\/forza-horizon-4.banner.png"}
{"id":"378","type":0,"store":"Instant Gaming","store_type":"Key Seller","store_is_official":false,"store_css":"instant-gaming","store_image":"instant-gaming","edition_name":"Ultimate Edition","edition_html":"Ultimate&#x20;Edition&#x20;<i class=\"for-icon fab fa-xbox\" title=\"Available on Xbox One\"><\/i><span class=\"for-icon-text\" data-shape=\"xbox\">XBOX ONE<\/span>&#x20;<i class=\"for-icon fab fa-windows\" title=\"Available on Windows\"><\/i>","platform":"Xbox Play Anywhere","region":"Global","price":"84.77","price_without_coupon":"84.77","discount":30,"discount_without_coupon":30,"in_basket":false,"coupon_info":[false,"",0,""],"bg":"https:\/\/imgcdn1.nexarda.com\/main\/games\/2018\/forza-horizon-4.banner.png"}
{"id":"379","type":0,"store":"Instant Gaming","store_type":"Key Seller","store_is_official":false,"store_css":"instant-gaming","store_image":"instant-gaming","edition_name":"Deluxe Edition","edition_html":"Deluxe&#x20;Edition&#x20;<i class=\"for-icon fab fa-xbox\" title=\"Available on Xbox One\"><\/i><span class=\"for-icon-text\" data-shape=\"xbox\">XBOX ONE<\/span>&#x20;<i class=\"for-icon fab fa-windows\" title=\"Available on Windows\"><\/i>","platform":"Xbox Play Anywhere","region":"Global","price":"-1.00","price_without_coupon":"-1.00","discount":0,"discount_without_coupon":0,"in_basket":false,"coupon_info":[false,"",0,""],"bg":"https:\/\/imgcdn1.nexarda.com\/main\/games\/2018\/forza-horizon-4.banner.png"}
{"id":"2095","type":0,"store":"GGCodes","store_type":"Key Seller","store_is_official":false,"store_css":"ggcodes","store_image":"ggcodes","edition_name":"Standard Edition","edition_html":"Standard&#x20;Edition&#x20;<i class=\"for-icon fab fa-xbox\" title=\"Available on Xbox One\"><\/i><span class=\"for-icon-text\" data-shape=\"xbox\">XBOX ONE<\/span>","platform":"Xbox","region":"Global","price":"-99.00","price_without_coupon":"-99.00","discount":0,"discount_without_coupon":0,"in_basket":false,"coupon_info":[false,"",0,""],"bg":"https:\/\/imgcdn1.nexarda.com\/main\/games\/2018\/forza-horizon-4.banner.png"}
{"id":"3562","type":0,"store":"G2A","store_type":"Marketplace","store_is_official":false,"store_css":"gtwoa","store_image":"g2a","edition_name":"Standard Edition","edition_html":"Standard&#x20;Edition&#x20;<i class=\"for-icon fab fa-xbox\" title=\"Available on Xbox One\"><\/i><span class=\"for-icon-text\" data-shape=\"xbox\">XBOX ONE<\/span>&#x20;<i class=\"for-icon fab fa-windows\" title=\"Available on Windows\"><\/i>","platform":"Xbox Play Anywhere","region":"Global","price":"-99.00","price_without_coupon":"-99.00","discount":0,"discount_without_coupon":0,"in_basket":false,"coupon_info":[false,"",0,""],"bg":"https:\/\/imgcdn1.nexarda.com\/main\/games\/2018\/forza-horizon-4.banner.png"}
{"id":"3563","type":0,"store":"G2A","store_type":"Marketplace","store_is_official":false,"store_css":"gtwoa","store_image":"g2a","edition_name":"Deluxe Edition","edition_html":"Deluxe&#x20;Edition&#x20;<i class=\"for-icon fab fa-xbox\" title=\"Available on Xbox One\"><\/i><span class=\"for-icon-text\" data-shape=\"xbox\">XBOX ONE<\/span>&#x20;<i class=\"for-icon fab fa-windows\" title=\"Available on Windows\"><\/i>","platform":"Xbox Play Anywhere","region":"Global","price":"48.38","price_without_coupon":"48.38","discount":0,"discount_without_coupon":0,"in_basket":false,"coupon_info":[false,"",0,""],"bg":"https:\/\/imgcdn1.nexarda.com\/main\/games\/2018\/forza-horizon-4.banner.png"}
{"id":"4904","type":0,"store":"Gaming Dragons","store_type":"Key Seller","store_is_official":false,"store_css":"gaming-dragons","store_image":"gaming-dragons","edition_name":"Standard Edition","edition_html":"Standard&#x20;Edition&#x20;<i class=\"for-icon fab fa-xbox\" title=\"Available on Xbox One\"><\/i><span class=\"for-icon-text\" data-shape=\"xbox\">XBOX ONE<\/span>&#x20;<i class=\"for-icon fab fa-windows\" title=\"Available on Windows\"><\/i>","platform":"Xbox Play Anywhere","region":"Global","price":"44.65","price_without_coupon":"44.65","discount":0,"discount_without_coupon":0,"in_basket":false,"coupon_info":[false,"",0,""],"bg":"https:\/\/imgcdn1.nexarda.com\/main\/games\/2018\/forza-horizon-4.banner.png"}
{"id":"4905","type":0,"store":"Gaming Dragons","store_type":"Key Seller","store_is_official":false,"store_css":"gaming-dragons","store_image":"gaming-dragons","edition_name":"Deluxe Edition","edition_html":"Deluxe&#x20;Edition&#x20;<i class=\"for-icon fab fa-xbox\" title=\"Available on Xbox One\"><\/i><span class=\"for-icon-text\" data-shape=\"xbox\">XBOX ONE<\/span>&#x20;<i class=\"for-icon fab fa-windows\" title=\"Available on Windows\"><\/i>","platform":"Xbox Play Anywhere","region":"Global","price":"80.70","price_without_coupon":"80.70","discount":0,"discount_without_coupon":0,"in_basket":false,"coupon_info":[false,"",0,""],"bg":"https:\/\/imgcdn1.nexarda.com\/main\/games\/2018\/forza-horizon-4.banner.png"}
{"id":"4906","type":0,"store":"Gaming Dragons","store_type":"Key Seller","store_is_official":false,"store_css":"gaming-dragons","store_image":"gaming-dragons","edition_name":"Ultimate Edition","edition_html":"Ultimate&#x20;Edition&#x20;<i class=\"for-icon fab fa-xbox\" title=\"Available on Xbox One\"><\/i><span class=\"for-icon-text\" data-shape=\"xbox\">XBOX ONE<\/span>&#x20;<i class=\"for-icon fab fa-windows\" title=\"Available on Windows\"><\/i>","platform":"Xbox Play Anywhere","region":"Global","price":"98.65","price_without_coupon":"98.65","discount":0,"discount_without_coupon":0,"in_basket":false,"coupon_info":[false,"",0,""],"bg":"https:\/\/imgcdn1.nexarda.com\/main\/games\/2018\/forza-horizon-4.banner.png"}
{"id":"11461","type":0,"store":"HRK Game","store_type":"Key Seller","store_is_official":false,"store_css":"hrk-game","store_image":"hrk","edition_name":"Standard Edition","edition_html":"Standard&#x20;Edition&#x20;<i class=\"for-icon fab fa-windows\" title=\"Available on Windows\"><\/i>&#x20;<i class=\"for-icon fab fa-xbox\" title=\"Available on Xbox One\"><\/i><span class=\"for-icon-text\" data-shape=\"xbox\">XBOX ONE<\/span>","platform":"Xbox Play Anywhere","region":"Global","price":"-1.00","price_without_coupon":"-1.00","discount":0,"discount_without_coupon":0,"in_basket":false,"coupon_info":[false,"",0,""],"bg":"https:\/\/imgcdn1.nexarda.com\/main\/games\/2018\/forza-horizon-4.banner.png"}
{"id":"11462","type":0,"store":"Green Man Gaming","store_type":"Official Store","store_is_official":true,"store_css":"green-man-gaming","store_image":"green-man-gaming","edition_name":"Standard Edition","edition_html":"Standard&#x20;Edition&#x20;<i class=\"for-icon fab fa-windows\" title=\"Available on Windows\"><\/i>&#x20;<i class=\"for-icon fab fa-xbox\" title=\"Available on Xbox One\"><\/i><span class=\"for-icon-text\" data-shape=\"xbox\">XBOX ONE<\/span>","platform":"Xbox Play Anywhere","region":"Global","price":"-99.00","price_without_coupon":"-99.00","discount":0,"discount_without_coupon":0,"in_basket":false,"coupon_info":[false,"",0,""],"bg":"https:\/\/imgcdn1.nexarda.com\/main\/games\/2018\/forza-horizon-4.banner.png"}
{"id":"16566","type":3,"store":"Microsoft Store","store_type":"Official Store","store_is_official":true,"store_css":"microsoft-store","store_image":"microsoft-store","edition_name":"Free Demo","edition_html":"Free&#x20;Demo&#x20;<i class=\"for-icon fab fa-xbox\" title=\"Available on Xbox One\"><\/i><span class=\"for-icon-text\" data-shape=\"xbox\">XBOX ONE<\/span>&#x20;<i class=\"for-icon fab fa-windows\" title=\"Available on Windows\"><\/i>","platform":"Xbox Play Anywhere","region":"Global","price":"0.00","price_without_coupon":"0.00","discount":0,"discount_without_coupon":0,"in_basket":false,"coupon_info":[false,"",0,""],"bg":"https:\/\/imgcdn1.nexarda.com\/main\/games\/2018\/forza-horizon-4.banner.png"}
{"id":"24116","type":0,"store":"Very","store_type":"Official Store","store_is_official":true,"store_css":"very","store_image":"very","edition_name":"Standard Edition","edition_html":"Standard&#x20;Edition&#x20;<i class=\"for-icon fab fa-windows\" title=\"Available on Windows\"><\/i>&#x20;<i class=\"for-icon fab fa-xbox\" title=\"Available on Xbox One\"><\/i><span class=\"for-icon-text\" data-shape=\"xbox\">XBOX ONE<\/span>","platform":"Xbox Play Anywhere","region":"Global","price":"-99.00","price_without_coupon":"-99.00","discount":0,"discount_without_coupon":0,"in_basket":false,"coupon_info":[false,"",0,""],"bg":"https:\/\/imgcdn1.nexarda.com\/main\/games\/2018\/forza-horizon-4.banner.png"}